Privacy, Terms and Conditions
This website is operated and managed by Teneric Limited Registered in England and Wales. Company number 04164858 and VAT registration number GB774140338.
We want to ensure you're confident on how we use your sensitive data. Any data you provide us with by any means stays with Teneric Limited and not for any other purposes by any other organisation. This privacy policy outlines the privacy practices we employ from visitors using our customer service telephone service, email subscriptions to our free or paid services, and general email enquiries. For full disclosure, here's precisely what we capture and how we use that data.
Your Data Protection
Our Data Protection Registration number is ZA044596.
Cookie Control
A cookie is a small piece of code stored on your computer. Almost all websites have this device. It allows us to make the ordering of products as seamless as possible, remember any preferences (such as usernames and passwords) and help with our website analytics. Cookies get stored by default, and if you desire, you can delete them using the options within your internet browser.
None of the cookie data personally identifies you as an individual except when logging in to view any purchases made.
Teneric Emails
We offer various free subscription services that are email based. This process provides a double opt-in option, so you shouldn't receive an email from us by mistake.
The courses have one email per day then we send newsworthy items a couple of times a month. You can unsubscribe at any time by following the link at the bottom of the email.
We never provide your data to any third party, and we only use it for the purpose of signing you up for our subscription services.
Analytics Data
We have installed on the Teneric Website a piece of code that tracks visitors and website usage. The data stored can only identify users by their IP address although it does provide additional information such as operating system and internet browser. The analytics software provides information to us so we can improve usability and products offered. We track the following:
URL and title of all pages viewed by a visitor
URL and title of any links that are clicked on pages viewed
The external or internal site referrer
The user agent
Browser type and language
Screen resolution
x/y coordinates of mouse events
Unique ID tracking cookie ("UID")
Anonymised IP address ("IP")
Under the EU General Data Protection Regulation (GDPR), we do not require direct consent to monitor this data because of our legitimate interest of assembling and analysing our website usage. We may also use the data to prevent fraud.
Data Security
The Teneric website has an SSL certificate on all pages, so all data transferred over the internet is encrypted. You can check your browser that shows a padlock and "https" before the URL of each page you visit. If you purchase a product from us, your credit card or Paypal details are handled by a third-party. We do not have access to that information.
PCI Compliance
We use WorldPay for payment transactions and do not store or have access to any card details. Each year we gain The Payment Card Industry Data Security Standard certification.
Our Current PCI Certificate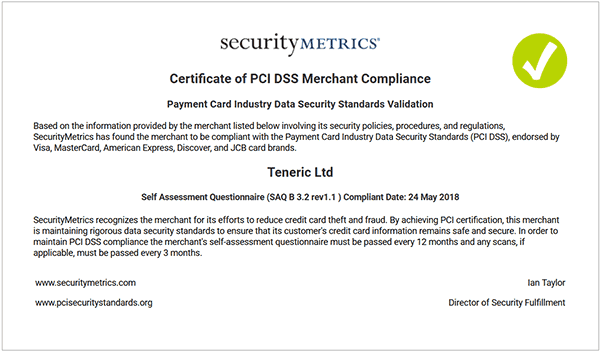 External Links
From time to time, we may link to a third-party website to provide additional information on a subject. We do this in good faith. Their privacy practices may differ from ours so you should check their policies before proceeding.
Data Storage
Teneric doesn't store your personal information locally.
Sales data is stored off-site by our hosting company.
Free subscription emails are stored off-site by a third-party email provider.
Website analytics data is stored off-site by our analytics provider.
All credit card payments are handled by Paypal or Worldpay.
Terms and Conditions
The Terms and Conditions govern your use of this website set out on this page. You should read these carefully. If you're not satisfied with continuing using this website and these terms, then you should leave immediately. Additional terms apply in the following circumstances:
All purchases made on this website; and
Signing up to any of our specialist email courses.
Website Copyright
Unless otherwise stated, all materials are owned by Teneric Limited. Materials include graphics, colour schemes, word copy, pictures, images, products, and emails. If you are in any doubt, please contact us. You are permitted to view the website for your personal use. You are not permitted to save or copy any materials found on any page of the domain https://www.teneric.co.uk without prior permission.
You are permitted to print any page for your personal records.
If you wish to use our materials behind firewalls or in-house study courses, please contact us.
Forums
A free-to-use forum provides support and mentoring for individuals. By using the forum, you grant Teneric Limited rights to edit or remove any posts and waive your rights under section IV of the Copyright, Design, and Patents Act 1988.
Posts should be accurate, legal, fair and relevant. Any submissions that fall outside of these terms are prohibited.
Teneric Limited accepts no responsibility for any submissions made on the forums or for any loss or damage resulting from posts made.
Product Use
All products are available to purchase and use 24 hours a day, seven days a week. We grant each user unlimited access from four IP addresses for a full 12 months.
Reselling, copying for financial gain, or giving away any product purchased on this website is strictly prohibited.
Refund Policy
Under the Consumer Credit Act, you have 14 days to request a full refund. Please contact us within this period via our contact form. Any amount refunded will reach your credit or debit card within six weeks.
Security and Viruses
A third-party SSL certificate secures the Teneric website. We make every effort to ensure the site is free of viruses and trojans. You should not attempt to inject malicious threats or gain access under the Computer Misuse Act 1990.
Disclosure
The website does not carry any third-party advertising or affiliate revenue links. We sell our proprietary products that generate our income.
Disclaimer
Teneric provides the website information on an "as is" and "as available" basis. We do not accept liability for any delays or interruption from its availability.
You acknowledge the information listed on the Teneric website, from an email course, or a purchased product reflects the best of our ability for accuracy and completeness. It does not form any contract between you or us, and you should not rely upon it for making any financial decisions. You should seek the services of a professional financial advisor if in doubt.
Teneric are not liable for any damages, losses, or other financial losses from the use of any materials accessed via the website.
Various links to third-party websites provide additional support to various pages. We do not accept any responsibility for the content on these sites.
Complaints and Your Data Removal Rights
We aim to provide market-leading data to assist in your endeavours. If you would like to provide feedback or have a complaint of any nature please contact us at complaints@teneric.co.uk and our Customer Care Team will assist you.
You have the right to request removal of any personal data we may hold on you. Please use our contact form.
Variation
Teneric reserves the right to change the privacy and terms from time to time. Any changes become effective immediately on this page.
This policy was last updated on 24 May 2018.
These Terms and Conditions are subject to the laws and court system in England and Wales.