Developing winning marketing strategies is time-consuming. But an effective plan is likely to improve profits and customer satisfaction.
Fully understanding your customer's needs helps you appreciate why they may want your product rather than your competitor's.
Getting started is sometimes the biggest hurdle to overcome. Therefore, we've created a simple marketing plan template that any business owner or marketer can put to work on their business.
The Structure of Your Plan
A marketing plan outlines your organisation's journey to deliver a desired financial outcome. It answers many of the following questions:
What new or existing products and services are you promoting?
What types of customers are you targeting?
How much does the product cost?
What are the profits made from each sale?
When does the promotion begin and end?
What resources do you need?
Do your competitors have identical products, and why are yours different?
Below is an outline of what your plan should contain. The downloadable templates below also include additional notes and guidance on completing each section.
The Summary of the Plan
Your plan begins with a summary of the entire document. This introduction is usually two pages that provide enough data for someone to grasp your concepts and financial projections quickly.
Market Research and External Analysis
Gather detailed information on your market position and external forces influencing your decisions. For example, knowing how large your potential customer base might be will influence most attributes of your product.
What's the value in monetary terms of the current market?
Is the size increasing or contracting and by how much?
Who are the largest competitors?
Will competitors change their pricing due to your marketing efforts?
Target Customer Demographics
Understanding exactly the type of customers who'll buy from you is essential. B2C target groups have some of the following characteristics:
Gender (male or female)
Specific age or age brackets
Social standing and aspirations
Disposable income
Private or council homeownership status
Mortgages, loans, and credit card debt
Geographic location
If you're targeting a B2B sector, you may also have the following additional characteristics about your personas:
Job title/ job type (director/ administration/ manager/ supervisor)
Industry sector
Company turnover
Number of employees
Brand Positioning and Definition
Information about the type of company you represent, its core values, and how your company communicates with its audience.
Product and Service Outline
Describe in full the products you're offering the customer groups that you outlined in the previous section. List any options available such as size or colour.
Pricing and Discounting Guidelines
Prepare calculations on the pricing strategy and discounting tables that the sales team use when dealing directly with customers.
Wholesale and Retail Strategies
You may have different wholesale and retail pricing strategies. Add these plans in this section together with reasons for your choices.
Sales Channel Marketing
Detail the different sales channels used for selling the products. These may include direct sales, face-to-face sales, online transactions, call centres, and affiliate marketing. If you have different channel pricing strategies, then explain the reasons behind each decision.
Advertising and Promotional Campaigns
List the key communications material produced for your campaign. Explain why you utilise individual media channels such as direct mail or radio together with the Return on Investment (ROI) for each channel.
Investment and Financial Returns
Highlight the investment together with financial returns over the period of the plan.
Free Marketing Plan Templates
You can download a PDF copy of the marketing plan template below to use for your business. There are three different formats to choose from: PDF, Microsoft Word and Microsoft Excel. There are no forms to complete and we don't require your email address. Just click on the link to open the appropriate file.
Marketing Plan PDF Template
Open or download the PDF marketing plan template on your device and start marketing your business right now.
Marketing Plan Word Template
Open or download the Word marketing plan template on your device. You can edit this document directly and save it for future reference.
Marketing Plan Excel Template
For those using Microsoft Excel, use the Excel marketing plan template directly on your device. There are also no restrictions on this worksheet.
You can use it for brand development, product launches, service refreshes, or related marketing activity. Students and business owners have downloaded these templates over 65,000 times, and it's proven to help develop your ideas into successful plans.
Your completed plan will help you precisely target your chosen customer segments and check if you've achieved your objectives at the end of the project.
The Ansoff Matrix
Use the Ansoff Matrix below to assist with segmentation planning.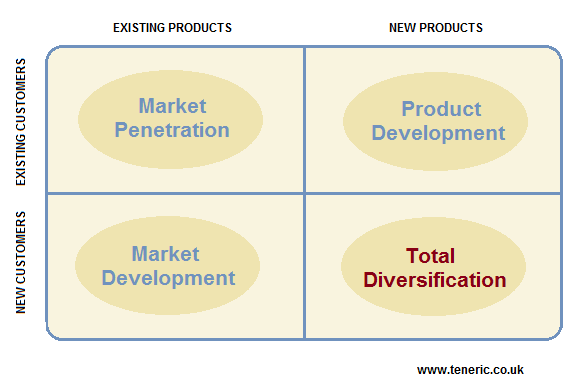 Each of the segments could be a target for your marketing. Each has different strategies to improve market share depending on the customers you want to develop.