SWOT Analysis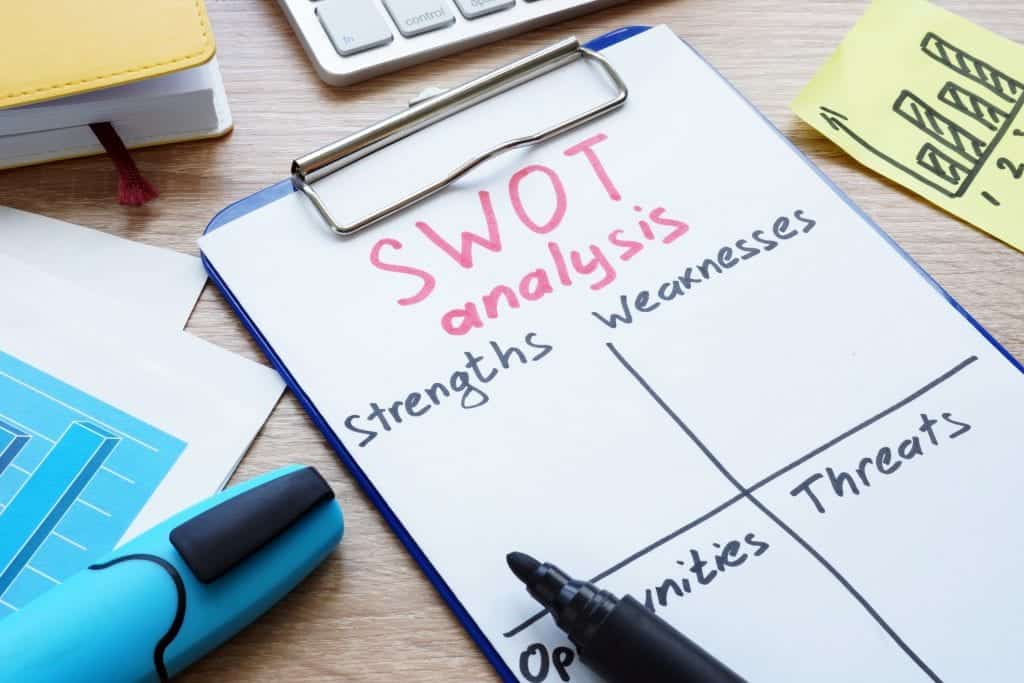 A SWOT analysis is not an analysis as such, but an interpretation of facts discovered through long-range planning activities.
Developed 50 years ago from analysis from the largest companies, it seeks to provide quantitative reasoning to help structure the setting of long-term objectives.
The results produced provide two distinct categories. Those that are under 100% control of the company concerned and those where they can only influence:
| Under Your Control | Those You Can Influence |
| --- | --- |
| Internal Strengths | External Opportunities |
| Internal Weaknesses | External Threats |
Using this framework can be an effective technique in many ways:
The SWOT presents a high-level overview of what the company sees as its main issues.
It helps provide the foundation for communication plans.
The summary focuses attention on those areas thought to be urgent.
The Marketing Framework
The results of your research provide results to develop future strategies for your business.
Internal Analysis
Everything about your organisation's characteristics, whether good or bad, provides valuable information that feeds into your strategy.
Analyse all aspects, including products, staff, location, technology, manufacturing, wholesale and retail relationships where you have total control. The results provide a platform for change if required within the internal makeup of the organisation.
External Analysis
Research is required to understand precisely how the external environment could affect your business. For example, you'll need to discover facts about your local economy, market growth, competitor activities, market size, government policies and technology trends.
Once you have gathered the information, your analysis should highlight new market opportunities and external threats to your growth plans. Remember, you're unlikely to change these factors, but you can influence them.
Developing Plans and Strategies
The above exercise provides numerous areas you may want to develop further. However, before you start categorising areas for development, take a moment to summarise the status quo.
Your Results: The Four Areas for Development
Once you've analysed the data, you'll have four sections describing the positives, negatives and the operating environment of your business.
Internal Strengths
Sometimes it's difficult for company managers to find more than three strengths because we are all very critical of our business. However, every business does great things better than its competitors. Try asking these questions:
What areas of your organisation do you win awards for?
What do your salespeople say helps them win business?
Where are your competitors investing to catch up with you?
What does your marketing literature say about you?
What have you invested in to improve the efficiency of your processes or the skill sets of your people?
To capture natural strengths that are better than your competitors, ask your customers why they purchase from you.
Internal Weaknesses
It's relatively easy to list things wrong within a company in this section, but most will not be weaknesses because their impact on performance will be minimal. Instead, be realistic of the weakest areas and the investment required to outperform the marketplace.
What negative messages do you receive when conducting customer surveys?
What do your customers complain about to your staff?
What factors contribute to losing customers or not winning new sales?
Where do you lag behind in the market?
What do you admire from your competitors?
As with your strengths, your customers will tell you the areas you need to improve to keep or win their custom.
External Opportunities
Your analysis should provide gaps in the market to exploit with new strategies. Using the Ansoff Matrix could improve existing businesses.
Where is your primary market growing?
What are the technological developments that have happened recently?
What features or changes are your customers demanding?
Are your competitors changing their strategy?
Changes in the market could happen if you're not constantly keeping up with the latest news. Take a broad view of the local marketplace and changes in overseas markets. Sometimes ideas come from innovations in other countries.
External Threats
Most threats come from government policy, economic change or ease of entry into a new market. You can really only influence these factors but knowing what could impact your profits is essential.
Is there any new legislation that could change your business practices?
Will technological changes impact your business methods?
Are there new competitors undercutting your prices to build market share?
What are the latest fiscal revisions by the government?
Will changes to interest rates from the Bank of England impact your forecasts?
External forces can radically change a business if they're not ready for the disruption. For example:
Kodak didn't change when digital cameras first appeared on the market.
Blockbuster Video made no changes to its business model when on-demand streaming began. They went into administration in November 2013.
Polaroid faced similar challenges to Kodak and filed for bankruptcy in 2001.
Jessops entered administration in 2013 caught out by the rise of smartphone use. Although now back in business, it remains to be seen if the business model is sustainable.
Barnes and Noble eventually bought out Borders bookshops. It failed from the change to digital books and fierce competition from the likes of Amazon.
Tips to Improve Your Results
Tip 1: Prepare a SWOT for your organisation and your nearest two competitors. This analysis will provide real insight into who you relate to within your industry.
Tip 2: Prepare the internal analysis based relative to your competitors. If three businesses have the same strength, then it's not a strength within the overall marketplace. By deleting duplications across the industry, you'll find the real definitive strengths that only you possess.
Once this analysis is complete, you should develop action plans focusing on the four elements that are most critical to your long-term business success.
SWOT Analysis Examples
| SWOT Area | Description |
| --- | --- |
| Strength | We have the only iPhone app in the market with 3,240 users. |
| Weakness | We don't have an in-house telesales department to manage sales. |
| Opportunity | A new business park is being built locally for 45 new companies. |
| Threat | Reduced funding to councils could see a reduction in sales. |
By undertaking this analysis, it will help you focus your energies to:
Build on or maintain your strengths.
Minimise any weaknesses.
Maximise your market opportunities.
Mitigate any threats.
SWOT Analysis Templates
Download a SWOT analysis template in Word, Excel, PowerPoint or PDF (Adobe Acrobat Reader). You can edit all templates for your requirements. Click on the link to open the file or save to your computer.
Additional Reading
To further help your SWOT analysis techniques, the following excellent resources can help: