How to Network and Build Lasting Business Relationships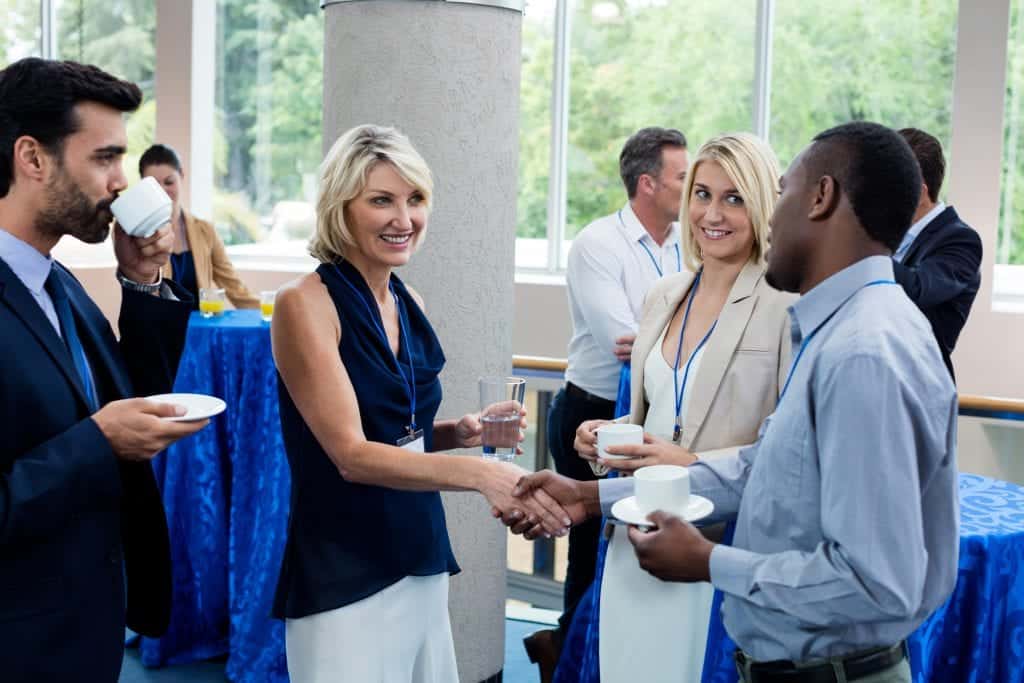 "It's not what you know, it's who you know".
In today's tough economic climate, that phrase rings true. Having, or lacking, the right connections, can make or break a business.
Your business model may be brilliant. You may have brilliant ideas, and you may just have the potential to go far in your industry.
However, you won't get far if no-one knows you even exist. Therefore, the importance of strong business connections to exchange ideas cannot be understated.
Networking Opportunities
The people who go far in business are the people who are constantly on the lookout for networking opportunities. And there are plenty of them out there. You just need to be resourceful and confident in securing the leads, opportunities, discounts and perks that can bring success.
Your fellow human beings are a vast resource, so read on to learn how to expand your network and cultivate long-term business relationships.
Get Started by Connecting With Those You Already Know
The best place to start is with your current connections. These could be:
School or university friends.
Old work colleagues.
Childhood friends.
Distant relatives.
Getting in touch with these people is a great way to get started, and you'll be able to hone your interpersonal skills before you approach strangers.
What's more, if they're impressed with what you're doing now, then opportunities may come knocking on your door sooner than you thought. You may be able to get some introductions to influential people outside of your current network.
If you haven't been in contact for a while, then some of the social networks may help track them down. The business network LinkedIn helps build your online profile and connect with colleagues and their network.
Approaching Strangers and Expanding Your Network
When it comes to looking beyond your immediate network, you need to be resourceful and proactive in your efforts.
Making that first contact can appear daunting but we have all started fresh relationships from early childhood and built meaningful networks over time.
Here are some practical tips for you to implement:
Offer Something of Value to the People you Contact
It's highly unlikely that your chosen prospect will want to get to know you if you simply send a clinical email focussed on the hard sell.
Instead, develop ways that you can offer something of value to your prospect. How can you help them? You could offer a testimonial, a valuable mention in your company's blog or something else with no catch.
If you reach out and offer to help someone in this way, they'll feel compelled to do the same for you in the future.
Contact People on Your Level First
Many people think targeting the CEOs (Chief Executive Officers) of major companies might be a great way to gain powerful connections quickly and easily. But in truth, this strategy rarely works. Instead, you should focus on making contact with people on your level. These people are not only far more likely to be receptive to you, but they have access to your ultimate target.
By forging a number of connections like this with a wide variety of people in your industry, you can keep yourself on your target's radar and start working on building your reputation. It may take time to build up your contacts in this way, but the results are potentially huge, and you're far more likely to secure referrals.
Get Social
It's particularly easy to network online, and for businesses there are even specialist online networking groups on sites such as LinkedIn. Using it, you can search for your direct peers and other people who share connections with you.
Reaching Out to Third Parties
If you're an industry expert or have some interesting insights to offer people, you may consider writing on third-party blogs or interesting articles for sites, which you can share with your network. This type of marketing promotion is a great way to get people talking, and you'll keep your presence in the forefront of your network's mind by staying active.
Social Networking in the "Real World"
Offline, there are a number of ways to meet people in your industry and forge relationships. You could attend local events such as seminars, workshops, and industry awards. Make sure you arrive equipped with a polished 'elevator script', plenty of business cards and plenty of enthusiasm. In person, you are representing your business, and you only get one chance to make a lasting impression.
Keep the Lines of Communication Open
Remember to always try and arrange a follow-up with key people that you meet and want to network with over the longer-term. You could propose meeting for coffee or having a chat on the phone after the event has concluded. Try and set a date and time there and then, so you don't have to waste valuable time contacting the person to check their availability.
Avoid leaving anything open. Plan and agree the next stages at every point, and you'll have much more success in garnering mutually beneficial relationships with others.
Groups and Events to Extend Your Immediate Network
Here are some ideas of developing new contacts face-to-face.
Conferences, Seminars, Training Courses and Exhibitions
All industries have annual conferences spread around the globe. You may have to travel overseas to find the most suitable event to develop. There are no hard and fast rules in meeting the right people, but have in mind to give as well as receive information. It's hard work to meet new people, but all have a common interest at the location. Most of your time should be spent outside of the actual lectures to develop new relationships.
Check the after-show parties from the main agenda and attend the largest for maximum exposure.
Follow the hashtag for the event on Twitter to find other smaller gatherings and meetings. Many industry leaders arrange breakfast or evening sessions that are open to all, so keep an eye on third-party invites.
Strike up conversations during the morning and afternoon coffee breaks.
Online Forums, Networking Clubs, and Blogs
There are numerous general business and networking forums with people asking questions to develop their own business. Offering support and providing expert answers could develop your online presence.
Once others see you're an expert in your field, you are likely to be asked to other groups and offer guidance. Successful entrepreneurs and senior corporate officers frequent some of the larger forums that could have a meaningful impact on your career.
You never know who may be the right people to network with on your first introduction. Don't dismiss anyone they may have connections you need. Each person you meet is also likely trying to develop their own connections, so be prepared to offer something in return. Above all, have patience as some contacts you make won't necessarily assist you for months, even years.
How Do I Maintain My Network?
Relationships take time. So it's crucially important to maintain your network once it begins to grow and flourish. After all, you never know when you may need to call in a favour.
Keeping in contact with people via the internet is incredibly easy, and it takes minutes to write an email or send an interesting article to a key contact you have identified. By having your network on a platform such as LinkedIn, you can invite their opinions on your blog posts and content, which will keep the dialogue flowing between you.
Offline, you could try inviting some contacts to a seminar or workshop, or you could cast a wider net if you have spare tickets for an event or a gig. These invites will likely reciprocate over time and should also generate additional contacts for you to develop.
Most importantly, don't be afraid to ask for things if you need them.
After all, you're maintaining your network for a reason. Maybe you'd like to get introduced to a mutual friend in a high position, or perhaps you need the assistance of an expert contact in a particular industry. Whatever the case, don't be afraid to get in contact and ask. Don't feel the need to apologise for asking either.
Command respect from your network by simply asking politely and professionally. That way, you won't give out the impression that this is a 'big ask'. Work to avoid placing doubt into the minds of your network through negative language.
How to Persuasively Sell Yourself Effectively
The sales and marketing disciplines are perhaps the hardest area in business to get right.
If you're not a natural born sales person or have trouble communicating, it can be doubly difficult.
When most people think of sales, images of unwanted telesales teams cold calling during the evening come to mind. But every day we have a selling job to undertake that's mostly about us!
The first time we have to sell ourselves is during the recruitment process. We have to write a sales letter for the application, a prospectus in our CV and then face the rigours of a face to face interview. For many, it fills us with fear because we inherently find it difficult to promote our strengths.
But it's not just for personal reasons as many businesses, especially sole traders, also find it difficult to promote themselves positively.
Selling Your Business Strengths
How many times have you come across a new organisation and you have no idea of what they do? You don't know if you can trust them and you have no clue as to their strengths.
Even the local direct mail you receive through the post leaves a lot of questions in your mind. But with a few tweaks this can all be managed.
For many business owners, they don't believe they need to promote themselves in terms of what's in it for the customer. Sometimes just pretending to be your customer, forgetting all you know about your business and starting from no knowledge can bring some answers.
It's the Same for You Personally
If you're a sole trader, then the business is all about you. The question your customers will ask is: Why should someone buy from you?
The answer is not about your products or services but your customer. The overall answers your customers are looking for will lie in the convenience, price, access and timing attributes of your brand. The the marketing mix aligns these in terms of product, price, promotion and place.
The key is to find five or six of your main strengths, and that means developing a SWOT analysis. Whether you're a large corporation or a small business, this planning tool will help you hone your promotional strategy.
Developing Your strengths and Promoting Them
Your SWOT is a great tool to develop. When we deal with SWOT analysis, most people can come up with many weaknesses and not many strengths which is just human nature.
If you can develop five or six strengths, then you can develop your promotion around those.
Just ensure these are things your competitors do not have (otherwise you're no better or worse than them). Here are some examples you can use:
The same family run business for 25 years.
The lowest prices in this region are guaranteed.
We provide free delivery and free returns.
We are the sole supplier for XYZ product.
We have all products in stock that no one else has.
We have won a national award for ABC Limited for five years running.
All our products are from Fair Trade businesses.
We are members of an accredited trade organisation.
Many of the above build trust as well as set yourselves apart from your competitors. You may already have many of these but are you promoting them effectively?
Everyone has successes and are doing something right so it should be easy to find some. Just remember that in any promotional messaging that your main headlines and wording should all be about the benefits of using your services rather than wording such as "Welcome to XYZ Limited".
If you can overcome the fear of selling, then you'll overcome your competitors because the likelihood is that they're still not promoting themselves as well as you will.
Above all, be brave. Promote yourself well because no-one is going to do it for you.